Premium Movie Channels On Dish
From the latest Hollywood blockbusters to hit original series, choose the lineup that's right for you with options like Showtime® and Starz®, Encore®, and DISH Movie Pack®, so you'll never run out of choices on movie night.
Add-on Movie Packs for the Film Fanatic
Personalize your DISH premium channel lineup with your choice of add-on channel packs to get the most out of your home entertainment.

Watch nine channels worth of top films and critically acclaimed original series like Shameless and Homeland.

Experience the best of both worlds with plenty of silver-screen favorites and popular original series like Outlander, Power, and Black Sails.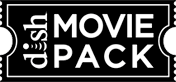 Your source for 15 top movie stations, including EPIX®, Sony Movie Channel, MGM HD, and more.

Instant access to thousands of blockbusters plus exclusive access to stand-up comedy shows, concerts, and sporting events.

Get eight channels of premium content, featuring commercial-free movies and uncut TV series.

Watch movies anytime from almost anywhere with DISH On Demand.
More Ways to Watch DISH Premium Channels
Take your movie night on the road with DISH. Whether you want to stream the classics, catch up on new shows, or revisit old favorites, you can experience premium content on any device from almost any location. With access to features like the DISH Anywhere® app and the Hopper 3® Whole-Home HD DVR you can enjoy more DISH movies in more places.
DISH Anywhere®:

Download the app, and get mobile access to all DISH premium channels.

Hopper 3® Whole-Home HD DVR:

Record up to 500 hours of your favorite premium TV episodes, tape 16 shows at once, or watch the dramatic conclusions of four live movies all on one screen.