Back on the Lot Just in Time for Halloween
Sink Your Fangs into the Stephen King Scream Job: Chapter 3
Let's keep this chilling tradition going. For the third time, USDish.com is looking for one (un)lucky fan to watch 13 movies based on Stephen King's most hair-raising novels. And in cele-boo-bration, we want to pay this daredevil $1,300 to witness these horror classics. Will it be you?
Feeling brave? How about you get cozy with Carrie or play fetch with Cujo? Maybe warm up at a safe distance from Charlie McGee's wrathful fire or watch The Shining with a buddy so you know you're not seeing things.
As you watch, we'll ask you to note how everything's going—how's your heart rate during the scary scenes? Which movie's your favorite or least favorite? Are you watching these flicks alone or bringing a friend along so you can have night terrors together? The $1,300 earnings will surely give 'em pumpkin to talk about, so sign up now and show us you've got the guts to watch.
Who We're Looking For
Movie buff? Scaredy cat? Adrenaline junkie? All of the above? This job is not for the faint of heart, but it could be for you. The ideal candidate has to be detail-oriented enough to track their experience. They could even share their scares on social media and vlog every time they jump out of their seats. No degree is necessary, nor will a drug test or background check be performed; however, applicants must be 18 years or older and a US citizen or permanent resident to apply.
Tell us why you're the perfect victim and what you hope to gain from this experience (aside from the $1,300, of course), and this dream—or nightmare job—could be yours! And whether you land this scream job or not, USDish.com makes it easy to enjoy Stephen King any day or night so be ready for a good scare.
What You'll Watch
So many adaptations, so little time. We narrowed it down to 13 classics that will leave you screaming...for more!
Carrie (original or 2013 remake)
Christine
Creepshow
Cujo
Doctor Sleep
Firestarter (original or 2022 remake)
It (original or 2017 remake)
It Chapter Two
Misery
The Mist
Pet Sematary (original or 2019 remake)
Salem's Lot
The Shining
We also want to know everything about your experience. You will track your heart rate and jump scares. You'll let us know who joined in on the scares with you. You'll let us know what you thought before watching certain movies, and if your feelings changed after you completed them. You'll even log your sleep—if you can sleep.
We want to know all this and more! We'll provide a worksheet to help guide you along the way, but you're not limited to what we give you—feel free to share your thoughts, like a journal, and give us all the frightening deets! It's simple to watch wherever you are, just consult our guide to watching Stephen King to get started down the path of horror.
What You'll Get
One lucky (or unlucky) fan will get a swag bag with a value of $350 to make this trip down Derry, Maine well worth it.
Don't worry about tracking down these horror flicks; watch all 13 movies on us!
To help equip you for watching, we'll give you a survival kit with a blanket, popcorn, candy, and some Stephen King paraphernalia to set the stage for what is sure to be a terrifying experience.
We'll provide a Fitbit to help you track your heart rate during some of the more intense scenes.
Once you watch all 13 movies and log your report, we'll pay you $1,300! Spend it how you want. Just avoid a certain hotel in Colorado!
How To Apply
Think you're up for the challenge? Fill out the application form below to officially enter into the scariest social experiment of the season. In 200 words or fewer, tell us why you should be tortured this way. Let us know how you like to celebrate the Halloween season and any other relevant information that would make you the perfect candidate. It'll be the scariest—but easiest—way to make $1,300, so apply today!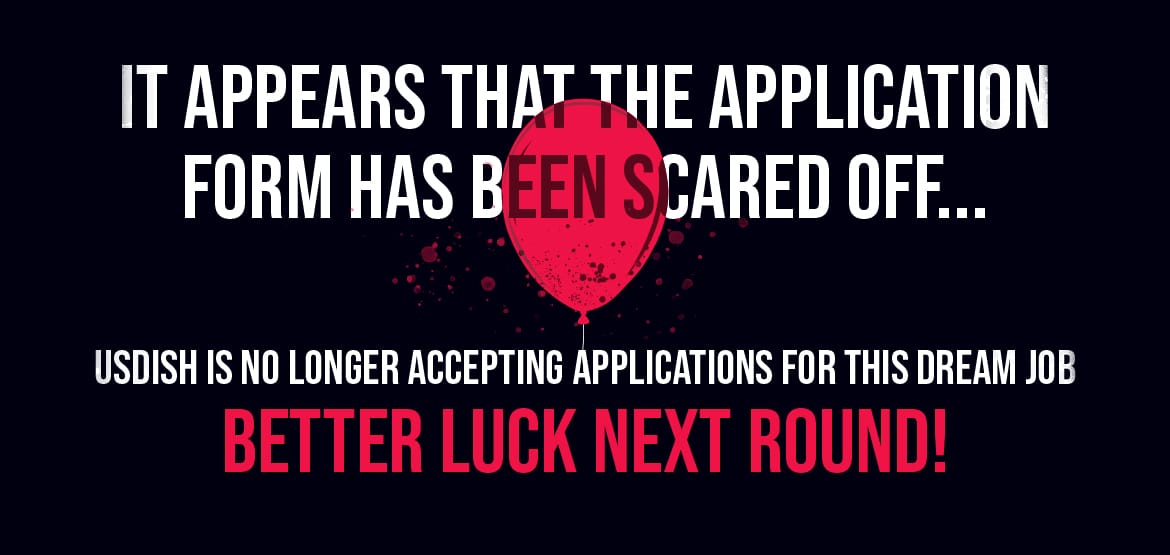 Frequently Asked Questions
How do I know if my application was received?
Please check your email for your submission confirmation. Be sure to check your spam folder if you don't see it!
How do I submit/attach additional info?
We do not accept additional attachments outside of the submission form. We apologize for any inconvenience.
How will I know if I got the job?
You will receive an email by Friday, September 30, 2022 from the USDish.com team that will share whether or not you were selected.
Help! The submission form isn't working.
Fill in all of the required fields.
Ensure that you're using a valid US zip code. Only US residents aged 18 and older can enter.
Write

at least

100 characters (approximately 12 words) on why you're the perfect fit for this job. Emojis are acceptable, but please omit emojis from your answer if you continue to face technical issues.
Please only enter numbers into the phone number field; e.g. 8010001919 instead of 801-000-1919.
Try refreshing your screen if the application form doesn't load. If you are on a mobile device, consider using a laptop or computer to access the application form.
Where is the form, and how do I apply?
I am a member of the media and I have a question.
If you're a journalist looking for more information, please email media@usdish.com and we will reply as soon as we're able to.
When is the deadline?
The deadline to submit your application is Friday, September 16, 2022 at noon MST.
Stephen King Scream Job: Chapter Two Watch and Win $1,300: Scream Job Terms and Conditions
1. The promoter of the Stephen King Scream Job Chapter 3: Watch 13 Movies by Halloween and Get $1,300 is Clear Link Technologies, LLC d/b/a USDish.com ("Promoter"), whose principal office is located at 5202 W Douglas Corrigan Way, Salt Lake City, UT 84116.
2. Employees of the Promoter or their family members or anyone else connected in any way with the Scream Job or helping to set up the Scream Job shall not be permitted to enter.
3. Scream Job is open to residents of the 50 United States and D.C., 18 years or older as of August 19, 2022, or otherwise have reached the age of majority under the state's laws where you reside to apply for the Scream Job. Applicants must be legally authorized to work in the United States.
4. SCREAM JOB VOID WHERE PROHIBITED.
5. There is NO ENTRY FEE AND NO PURCHASE NECESSARY TO APPLY FOR THIS SCREAM JOB. Any purchase or consideration otherwise given by applicants will not improve one's chances of being selected for the Scream Job.
6. LIMITATION OF LIABILITY: By entering this Scream Job, applicants waive all right to and hold the Promoter harmless from any claim, liability, loss, injury, damage (including punitive, incidental, and consequential damages), or expense (including attorneys' fees) arising out of or in connection with participation in this Scream Job or the acceptance, use, or misuse of any prize. SOME JURISDICTIONS DO NOT ALLOW THE LIMITATIONS OR EXCLUSION OF LIABILITY FOR INCIDENTAL OR CONSEQUENTIAL DAMAGES, SO THE ABOVE MAY NOT APPLY TO YOU. The Promoter will not be responsible for: late, incomplete, or incorrect applications; an applicant's failure to receive notices due to applicant's spam, junk e-mail, or other security settings or for applicants' provision of incorrect or otherwise non-functioning contact information; technical, hardware, or software malfunctions, lost or unavailable network connections, or failed, incorrect, inaccurate, incomplete, garbled, or delayed electronic communications whether caused by the sender or by any of the equipment or programming associated with or used in this Scream Job; by any human error which may occur in the processing of the applications in this Scream Job; or any typographical, technological, or other error in the publishing of the offer, administration of the Scream Job, or announcement of the Recipient of the Scream Job ("Recipient").
7. The route to enter the Scream Job and details on how to apply are available above.
8. Promoter will start accepting applications on Augutst 19, 2022 at noon MST. Closing date for entry will be September 16, 2022 at noon MST. After this date, no further applications to the Scream Job will be permitted.
9. Applicants will be evaluated without regard to mental or physical disability, race, color, religion, gender, national origin, age, genetic information, military or veteran status, sexual orientation, marital status or any other protected Federal, State/Province or Local status unrelated to the performance of the work involved.
10. Promoter shall select one (1) Recipient from the entire pool of eligible applicants. Recipient will be selected based on the quality of the application as judged by Promoter's employees.
11. The Recipient will be notified by email within 7 days of the closing date. If the Recipient cannot be contacted, is not eligible, or does not claim the opportunity to participate in the Scream Job within 7 days of notification, Promoter reserves the right to withdraw the offer from the Recipient and pick a replacement Recipient.
12. INDEPENDENT CONTRACTOR ACKNOWLEDGMENT: The Recipient acknowledges that participation in the Scream Job will be as an independent contractor. No agency, partnership, joint venture, or employee-employer relationship is intended or created by acceptance of the Scream Job. The Recipient has no authority to bind Promoter to contracts, make any agreement or representations without Promoter's written consent. The Recipient shall not be eligible to participate in any vacation, group medical or life insurance, disability, profit sharing, or retirement benefits, or any other fringe benefits or benefit plans offered by Promoter to its employees. Promoter is not responsible for withholding or paying any income, payroll, Social Security, or other federal, state, or local taxes, making any insurance contributions, including unemployment or disability, or obtaining worker's compensation insurance on Recipient's behalf. Recipient acknowledges that stipend is subject to all applicable taxes. The Recipient is solely responsible for all such taxes or contributions, including penalties and interest.
13. Prior to the start of the Scream Job, Promoter shall deliver to Recipient a swag bag (the "Swag Bag") worth $350 consisting of streaming access to Stephen King films ( a $60.00 Amazon gift card) , a survival kit including a blanket, popcorn, candy, and assorted Stephen King paraphernalia valued at roughly $140.00, and a Fitbit Luxe valued at $149.95 to track your heart rate. Promoter reserves the right to substitute any of the items above with an item of equal or greater value.
14. Scream Job consists of viewing 13 Stephen King films of the Recipient's choosing, monitoring heart rate, accounting for reactions and thoughts, and using the worksheet the Promoter will provide. The Promoter will notify the Recipient on how to complete the Scream Job requirements. The recipient must adhere to the Scream Job conditions in order to be paid the full $1,300 prize money.
15. This Scream Job is conducted by Promoter and is in no way sponsored, endorsed, administered by, or associated with Stephen King or any of the other properties listed above or their affiliates.
16. Upon completion of the Scream Job, the Recipient will receive a one-time payment of $1300.00. Upon completion of Scream Job, funds shall be distributed no later than 90 days following Recipient's completion of the Scream Job requirements.
17. No cash alternative to the Scream Job or the Swag Bag will be offered. Opportunity to participate in the Scream Job is not transferable.
18. By accepting the opportunity to participate in the Scream Job, the Recipient agrees to the use of her/his/their name and image in any publicity material without further compensation unless prohibited by law. Any personal data relating to the Recipient or any other applicants will be used solely in accordance with current federal and state data protection legislation. For more information see the Privacy Policy at USDish.com.
19. Where legally required, the Recipient's name will be available upon request 28 days after the closing date. To request the Recipient's name, please send the request in a stamped addressed envelope to the following address:
USDish.com
5202 W. Douglas Corrigan Way
Salt Lake City, Utah 84116
20. Promoter reserves the right to cancel or amend this Scream Job and these Terms and Conditions without notice.
21. Promoter's decision in respect of all matters to do with the Scream Job will be final and no correspondence will be entered into.
22. The Scream Job and these Terms and Conditions will be governed by Utah law and any disputes will be subject to the exclusive jurisdiction of the courts of Utah.
23. By submitting an application for this Scream Job, applicants agree to be bound by these Terms and Conditions.
This Scream Job is administered by USDish.com and is not affiliated with, sponsored by, or endorsed by any of the parties mentioned above.