Back in October, DISH challenged one lucky winner to binge 13 movies based on some of the most classic, terror-inducing Stephen King novels. The watchlist included iconic gems such as Carrie, The Shining, IT, Misery, and more. Well, the season of spooks is over, and those who participated in our Stephen King horror movie watch-a-thon got more than their fair share of frights as they powered through their movie selections. If you're curious as to how it all worked out, rest assured that no viewers (to anyone's knowledge) were harmed or haunted during their horror-filled movie streaming spree. But the experience did bring to light some interesting TV and movie-watching trends.
In all,
491,712

people applied for the DISH Stephen King movie-binging dream job

As part of the application process, DISH asked all participants to provide a little information about their movie and television viewing habits. Read on to discover some of the most interesting findings—and don't worry! There are no monsters to be found this time around.
STREAMING REIGNS SUPREME
One of the objectives of collecting information within the job application was to gain a better perspective of modern movie and TV viewing preferences. Of those who applied:
3 out of 4 applicants (roughly 77%) stream movies online
Over half of the applicants (59%) stated that they still see movies at the theater
More than 1 in 3 applicants (about 39%) said they buy DVDs, while only 32% still rent DVDs from services like Redbox or Netflix
According to the information collected, the most popular method of viewing movies and television was streaming.
If the stats prove anything, physical DVD rentals are closer to becoming obsolete than movie theaters. Though watching a movie from the comfort of your own home is relaxing and fun, a traditional movie theater experience offers more than a DVD can: a night out, top-notch visuals and sound, and theater-grade popcorn. But even despite the popcorn, streaming is the current frontrunner—and most likely the future—of TV viewing.
All your favorite DISH programming can even be streamed on up to five user-accounts simultaneously, on any device, with the DISH Anywhere App.
HERE'S THE DISH
Nearly 10% of those who applied for the movie spree turned out to be current DISH customers. Of those customers:
67% stream online movies—less than the overall population of applicants
59% still go to the movie theater—the exact same amount as the overall population of applicants
42% buy DVDs—slightly more than the overall population of applicants
The fact that streaming isn't as prevalent with DISH doesn't necessarily come as a surprise. DISH customers are treated to a unique TV experience, with a dynamic selection of programming and packages. And with the Hopper, you get just as much flexibility as you would with streaming services to watch what you want, when you want. So it's really no wonder DISH is #1 in customer satisfaction.
DISH also boasts an impressive channel lineup. Check it out.
Learn more about what DISH can offer you here.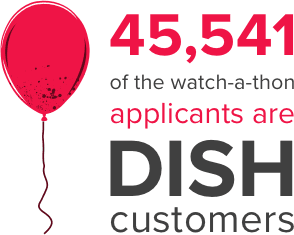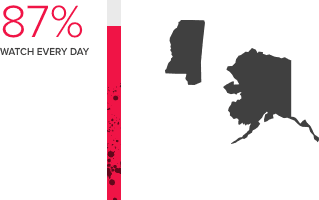 Alaska and Mississippi tie for the states that watch the most TV
87% of the respondents from both states report watching television every day.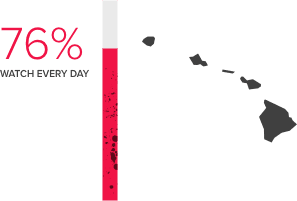 Hawaii residents watch the least amount of TV
Only 76% of the respondents from Hawaii report watching television every day.
The world of television is changing, and it doesn't take much to keep up. DISH offers premium channels and plans made to fit every budget and desire. Whether you're looking for a good scare, a good laugh, some feel-good romance, or high stakes adventure, DISH delivers just what you're in the mood for no matter where you are.
To upgrade your TV watching experience, get a customized DISH package here.