DISH HD
Satellite TV
Say hello to 200+ DISH HD channels & a 2-year TV price guarantee. Experience entertainment in 1080p full HD resolution with DISH HD programming.
Save More, Watch More
With DISH HD Channels
Why are you still paying DIRECTV® or cable hidden fees for your HD? Get over 200 HD channels, 4K HD programming, Video On Demand in HD, and HD FREE for Life® when you order DISH® today. With DIRECTV and cable, you'll be charged surprise price hikes, not be able to enjoy 4K HD programming, and even get fewer HD channels for your money. The choice is crystal clear–get the best in the market with DISH HD.
For 24 Months* Everyday Price $99.99/mo
America's Top 250 provides you with over 290+ channels with networks like DIY, Nicktoons, Encore, and Fox Movie Channel, with all the amazing benefits and channels of the 120+ and 200+ packages. Get the most bang for your buck!
Plus, you'll get great deals when you order your package:
140+ HD Channels

Local Channels
< Back
Channels Included in America's Top 250™
See 290+ channels
See Details
*All offers require credit qualification, 2-Year commitment with early termination fee and eAutoPay. Prices include Hopper Duo for qualifying customers. Hopper, Hopper w/Sling or Hopper 3 $5/mo. more. Upfront fees may apply based on credit qualification. Fees apply for additional TVs: Hopper $15/mo., Joey $5/mo., Super Joey $10/mo. Internet not provided by DISH and billed separately. Multi-Sport Package included at no additional cost through 1/3/19 with packages starting at $69.99.
How Much can I
save on DISH
Network HD?
Did you know that DIRECTV and cable make you pay extra money for your HD channels? When you choose a qualifying DISH HD package today, DISH won't charge you anything to watch your favorite shows, movies, and sports in high-definition. In fact, DISH will give you a $10 monthly discount** With DISH, it's as simple as choosing the right HD package and you'll automatically save $120 each year and simplify your TV bill in the process. What's more, you can get this DISH HD deal with a simple phone call to DISH. Call 1-855-548-6879 today for more details.
**Additional $10/mo HD fee waived for life of current account; requires continuous enrollment in eAutopay.

What's HD FREE For Life® ?
HD Free for Life is exactly what it sounds like: Free HD TV for the life of your account. Most providers charge extra for HD picture quality, but we feel that a nearly standard feature shouldn't be priced like a premium one. Take advantage of our signature deal, HD Free for Life, to watch up to hundreds of satellite HD channels—without ever paying extra.
Watch More
HD Channels on DISH
DISH offers more HD channels than DIRECTV and cable. With over 200 HD channels and 4K HD available, you'll be able to catch all your favorite shows, movies, and sports on channels like ESPN, Disney Channel, and SHOWTIME® without any surprise price hikes or channel blackouts. DISH is confident that when you watch all your favorite HD channels, you'll never want to suffer through standard definition TV again. Call 1-855-548-6879 now to get the best value possible on DISH Network HD channels.
HD FREE for LIFE
1st TV receiver included
Watch it all on the
Best DISH HD Receivers
Watch DISH HD channels commercial-free with the 4K Hopper® 3 Smart DVR and the 4K Joey™. Automatically skip primetime commercials, store up to 500 hours of HD programming, and record up to 16 HD shows at once. That's twice as much HD storage and simultaneous recording capability as the DIRECTV Genie®.
Skip primetime commercials
Store up to 500 hours of HD programming
If advanced features aren't your thing, DISH makes the Wally HD receiver available with every package. Although the Wally is not a DVR and lacks the storage and recording power of the Hopper, it's still sleek and even app friendly. Don't waste another minute. Call 1-855-548-6879 today to get your DISH Network HD receivers and enjoy HD on the most technically-advanced equipment available.
1st receiver included
Tons of apps available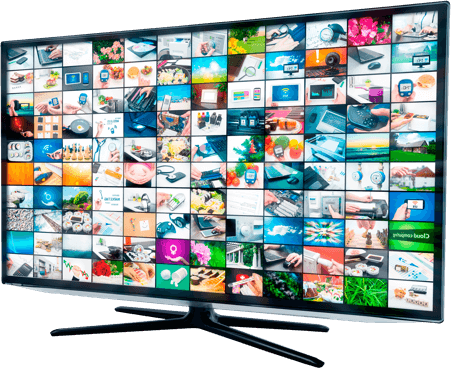 SCREEN DISH ON DEMAND MOVIES
IN 4K HD
With DISH On Demand, you can watch your favorite movies in HD whenever you want. DISH Cinema has tons of new releases in high definition, including select titles in 4K HD, 1080p HD resolution, and even 3D. Just connect your HD DVR* to the Internet to access DISH's massive movie library. Browse thousands of movies from On Demand in HD and even 4K HD, including independent darlings, classic favorites, and Hollywood blockbusters, with the touch of a button. Plus, DISH packages feature even more movies in high definition on your favorite networks like IFC and Sundance Channel, bonus features from your favorite films On Demand, and adult films on channels like Playboy TV. Watch your favorite movies in HD when it's convenient for you—get DISH today.
4K HD Video On Demand available
HD Adult programming available
*To connect your HD DVR to the Internet, you must have receiver model 612, 622, 722, 722k, 922 or the Hopper. (A phone line or broadband connection is required to order.)
Convenience of DISH Network HD Service
When you get HD FREE for Life from DISH today, there are several ways that you can maximize your HD experience right away. To get the most out of your service you'll need an HDTV, an HD receiver like the Hopper 3*, and a DISH HD package. Don't worry, HD service from DISH works with all standard high-definition equipment. Call DISH today to upgrade your entertainment and see if same-day installation is available in your area. With DISH, you'll enjoy the best HD has to offer without having to wait weeks for service.
FREE standard professional installation in up to 6 rooms
Works with all HD equipment
*Monthly fees apply: Hopper, $10; Joey, $5; Super Joey, $10